Bon Voyage to Lisa Kieffer, prenatal outreach manager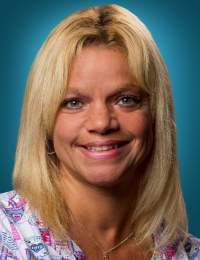 It's never easy to say goodbye to a friend and colleague, especially Lisa Kieffer, our prenatal outreach manager, who joined Martin County Healthy Start Coalition in 2007. August 7 is Lisa's last day, and while we will miss her greatly, we are happy that she will be joining her husband, Jon, in Whitehouse Station, New Jersey.
When Lisa joined MCHS, the infant mortality rate per 1,000 births in Martin County was 8.4%, one of the highest in the state. We recognized that improvement was needed, and Lisa led the change. In 2018 our rate was down to 4%, placing us among the top ten counties. In 2007, the county percentage for first-trimester entry into prenatal care was 57.7% compared to an overall state rate of 75.9%. In 2018, Martin's rate for prenatal care in the first trimester was 74.8%, just 1.7% below the state average. Those are impressive improvements.
Lisa worked tirelessly to improve the situation in many ways. As a trained LPN, her kind caring humanity, experience, and training helped to reshape women's engagement with prenatal care in Martin County.
Lisa has supported generations of pregnant women during the stress of pregnancy, taught nutrition education, proper childcare, breastfeeding techniques, and much more. She meets every challenge with a smile.

The diaper pantry was Lisa's vision, and she traveled to Washington, D.C. to advocate for it. She also identified the need to open a diaper center in Indiantown.
Lisa was involved in the inception of the Prenatal Outreach Center, which included the start of the Beds 4 Babies program.
Lisa's actions, innovations, and determination are potent examples of what one person can accomplish with the support of a team of like-minded people.

Lisa is a graduate of Indian River State College and a Certified Community Health Worker. She graduates this summer with a degree in Organizational Management with Dean's list honors.
In her free time, Lisa and her husband Jon look forward to following and supporting small non-profit animal sanctuaries.
We say goodbye to Lisa with all of our good wishes and know that she will accomplish whatever she sets her sights on. Bon voyage!