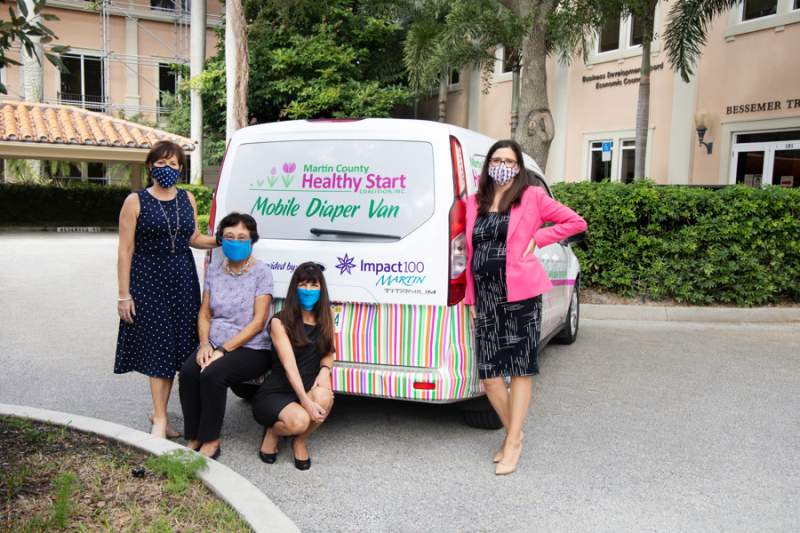 Impact 100 donated funding for the Healthy Start Coalition to buy a van to help in the distribution of free diapers to their clients who have no transportation. Left to right are: Betsy Johnson, Co-Chair Grants Committee, Impact 100; Nancy Wong, past Chair Executive Committee/past Co-chair Grants Committee, Impact 100; Elizabeth Barbella, President & CEO, Community Foundation Martin – St. Lucie; and Samantha Suffich, CEO, Martin County Healthy Start Coalition
Photo credit Stuart Photography Company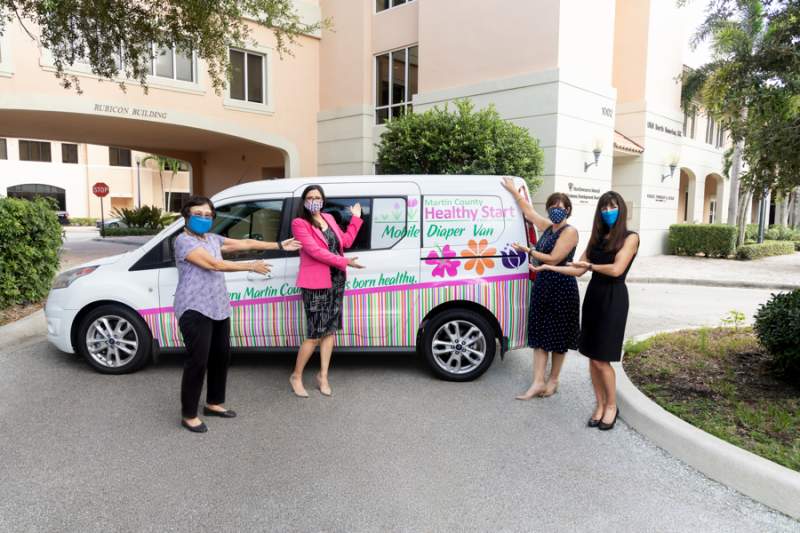 Showing off their new diaper van donated by Impact 100 are: Nancy Wong, past Chair Executive Committee/past Co-Chair Grants Committee, Impact 100; Samantha Suffich, CEO, Martin County Healthy Start Coalition; Betsy Johnson, Co-Chair Grants Committee, Impact 100; and Elizabeth Barbella, Community Foundation Martin – St. Lucie
Photo credit Stuart Photography Company
Many Healthy Start clients have no transportation to access their free diaper pantries in Stuart and Indiantown. Impact 100 Martin provided $21,416 for the purchase of a Mobile Diaper Van, which will allow them to reach more clients. The Children's Services Council of Martin County contributed $3,101 to provide additional staffing support for the diaper pantry and Medicaid enrollment.
The Children's Services Council also donated $2,595 to go toward providing online infant CCPR classes to prevent infant mortality in Martin County.
Healthy Start is a statewide nonprofit (501(c)3) that offers support and education to pregnant women, families, and infants and children to age three. Their services are provided at no cost.

For pregnant women and young mothers, the Martin County Healthy Start Coalition Betty Moore Prenatal Outreach Center is a one-stop resource center that connects them with essential services: prenatal outreach, home visitations by a nurse or social worker, assistance with filing for Medicaid, health coverage, and access to other community services.

Other programs are the Father and Child Resource Center and Healthy Start, which provides one-on-one newborn care, childbirth education, breastfeeding, parenting and tobacco education and support.

For more information, please visit www.mchealthystart.org or phone 772-463-2141.