Welcome to the Martin County Healthy Start Coalition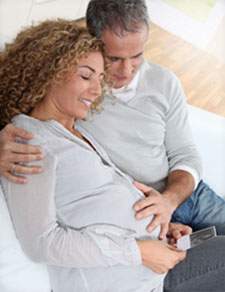 Martin County Healthy Start Coalition is a non-profit 501(c)3 that offers support and education to pregnant women, infants, and their families. All of our services are confidential, free of charge, and not income-based.
Martin County's Healthy Start Coalition opened its doors in February 1993 when Governor and First Lady Lawton Chiles challenged local communities to form coalitions to reduce Florida's alarmingly high infant mortality rate.
The Martin County Healthy Start Coalition continued to grow with the opening of the Prenatal Outreach Center in July 2007. The Prenatal Outreach Center is located in Stuart and expanded with a satellite site in Indiantown in 2017. Martin County Healthy Start Coalition has helped over 1,500 women in Martin County access prenatal care from these two locations.
The Coalition has been tasked with providing high-quality prenatal care for mothers, health care for children, and bridging any gaps in this care locally. As a true coalition functions, we know only together can we improve outcomes for women and babies. We invite you to be a force for change in improving the health and well-being of our families.
Let Healthy Start Help You
Be The Best Mom You Can Be.

NEWS & EVENTS
We've moved! We are now located close to downtown Stuart on US One in Mayfair Plaza. Our new address is 963 SE Federal Highway, Stuart, FL 34994. Turn onto Johnson Street for easy access or you may also enter the parking lot from the highway. Plenty of free parking.
At this time, our office staff is working remotely due to COVID -19, but our phone lines are OPEN.
Our Stuart office is open on Thursday for the Diaper Pantry from 9 am to 5 pm. The Indiantown Diaper Pantry is open on Tuesday from 12 pm - 5 pm.
PRESS RELEASE, April 13,2020
Martin County Healthy Start Coalition Seeks Support to Fill Demand for Diapers
Diapers are a necessity for every baby and the COVID-19 pandemic has increased the demand, stated Samantha Suffich, CEO of Martin County Healthy Start Coalition. "Our diaper pantry program has experienced over a 50% increase in enrollment, and we are struggling to have enough diapers available to meet the demand."
Their clients are economically challenged in the best of times and with the extreme economic downturn, the demand has soared.
The diaper pantry has two physical locations, one in Stuart at their main office at 963 SE Federal Highway and at the Indiantown Outreach Center at 15161 SW 169th Ave. In a normal month, they will distribute 4,000 to 6,000 diapers. But in the new reality, they will need as many as 10,000 diapers.
In December, the organization relocated their office to a more accessible location on Federal Highway in the Mayfair Plaza. "We felt that being in a location that was close to bus routes and major roads would make it easier for our clients. We also have more space that allows us to have private meeting rooms and to keep more supplies on hand for our clients," Samantha noted.

COVID-19 pandemic has forced them to make changes to their normal routine, but all regular services are still available by telephone. Stuart diaper pantry hours have been scaled back to Thursdays from 9 am to 5 pm; in Indiantown the pantry is open on Tuesdays from12 pm to 5 pm. Normally clients collect diapers and other supplies two times a month, but to decrease client exposure and travel, the organization has encouraged clients to make a monthly visit where they will receive a larger supply of diapers.
"The client contact is very important so we can check in with them and make sure they are on track, their babies are healthy, and they are receiving the services and support they need," noted Valerie Bell, president of the board of directors.

To register for services, contact the Connect program at 772-219-1835. Connect is overseen by the Florida Department of Health in Martin County.
Martin County Healthy Start Coalition is registered on the Amazon Smile Charity List providing a very easy way to support the diaper pantry program. All purchases are shipped directly to the Coalition's office for distribution. An additional bonus is that when you sign up for the Amazon Smile program, .5% of all your purchases will be donated to your designated charity.
Gift cards for major stores like Target or Walmart or Visa/Mastercard are another easy way to replenish the supply.
Martin County Healthy Start Coalition also provides baby wipes and formula for clients.
The non-profit organization has been offering support and education to pregnant women and infants since 1993. There are currently 32 Healthy Start Coalitions in Florida offering expectant mothers risk screenings, prenatal care, parenting support, counseling and much more.

The program is a broad umbrella of support and services provided by a strong collaboration of community partners and agencies who have established a system of care in Martin County that ensures that all women have access to prenatal care and continue to provide that support for infants, children up to the age of three. Their vision is for every mother and family to be supported so that every baby is born healthy.
You can donate easily through Amazon.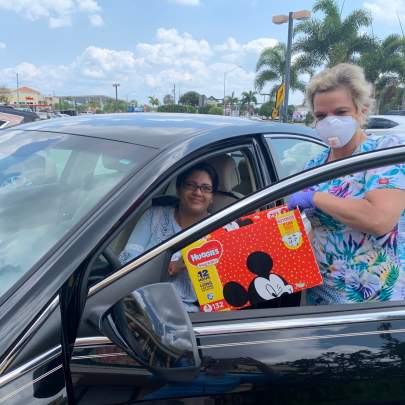 Lisa Kieffer, pre-natal outreach manager with Martin County Healthy Start Coalition meets client Kushboo Bohia in the parking lot with formula for her infant.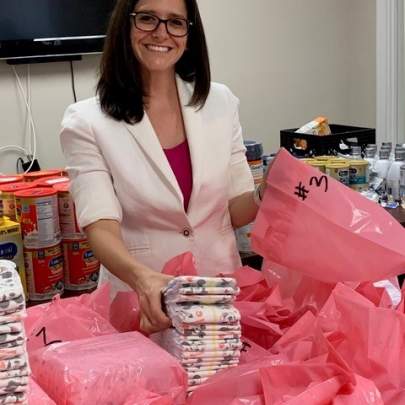 CEO Samantha Suffich prepares bags of diapers for pick up on Thursdays in Stuart. Due to the COVID-19 pandemic, the nonprofit has experienced a 50% increase in demand for diapers. Public support is vital to ensure a sufficient supply. Donations made be made through Amazon for direct shipment.
Photos by Beverly B. Jones